the state of being calm, peaceful and untroubled

the state of being calm, peaceful and untroubled
SERENITY DOG RETREAT OFFERS THE FINEST LODGING SET IN THE TRANQUILITY OF NATURE
A FEW EXCLUSIVELY SELECTED FURRY FRIENDS
The carefully crafted estate at Serenity Dog Retreat
is a safe, fun, and loving home environment.
Treat your dog to the same rejuvenation and relaxation that you experience while on vacation
Our property offers the tranquility and beauty of nature, with plenty of fresh air and fun for your best friend. Our resort-style atmosphere and ample acreage are safe areas for your dog run and explore freely.
Our home-like accommodations cater nicely to low-energy pups, seniors, and special needs dogs that can become nervous in larger facilities. (At this time we cannot accommodate dogs under 2 yrs of age.)
Our professional staff will lavish your canine loves with cuddles, exercise, and individualized pet activities to suit each of their unique personalities and needs.
At Serenity, dogs love to spend lots of time running freely in our large secure areas, chasing the ever-elusive squirrel, or just relaxing by the pool.
The health and safety of the pets in our care is a responsibility we take very seriously. Our staff is trained in CPR, First Aid and provided extensive, formalized training programs in dog behavior and playgroup safety.
We have a gated entrance and operate as an appointment-only retreat to provide exclusivity and privacy for our clients.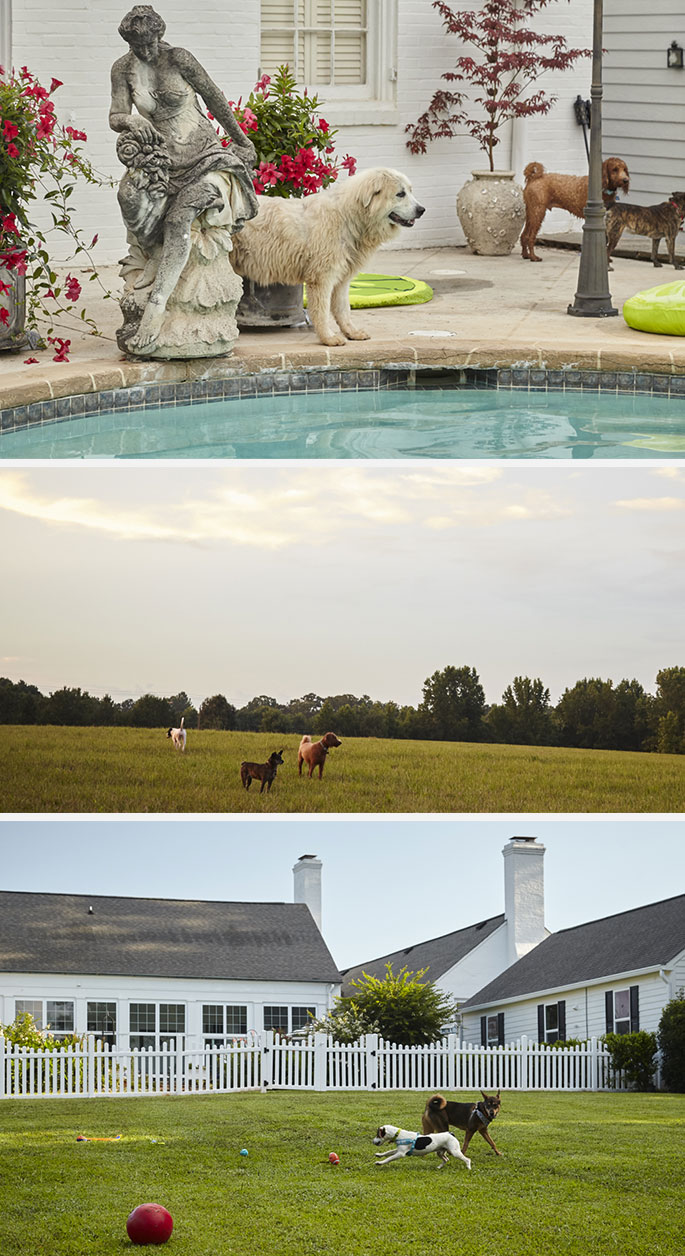 When my dogs are happy, I am happy, and I love creating spaces where my precious friends feel at ease, cared for, and free to play. I acquired this home knowing there was more than enough room for my 'family' to delight in comfortable lounging spots, rolling hills, and fresh air and had the vision to provide dogs and their people a boarding experience that feels like an upscale home away from home, or a visit to a welcoming friend's. I am committed to excellence and hope to be your long-term pet care partner.
the state of being calm, peaceful and untroubled