WE'RE SO GLAD YOU'RE HERE
A lavish and high-end home away from home for your pup to live their best life
INTERESTED IN BECOMING PART
OF THE SERENITY DOG RETREAT FAMILY?
A 4-hour evaluation must take place prior to the first boarding to ensure a mutual fit as well as allowing your dog to become familiar with their surroundings prior to spending the night.
Please click on the link to the online application below and fill out the questionnaire.
This helps us to understand your dog. There is a $60 fee per dog.
We will contact you via email after you fill out the application with directions on the next steps. This will include adding yourself as a new customer, continue scrolling down to "Create an account" and we will schedule the evaluation day.
WE ARE ONLY ACCEPTING NEW CLIENTS THAT WILL BOARD A MINIMUM OF 30 DAYS PER YEAR OUTSIDE OF HOLIDAYS & SCHOOL BREAKS
WELCOME NEW CUSTOMER!
YOUR ONBOARDING PROCESS
Your account is considered the central hub for information about your pup. With an account, you'll be able to schedule your dog for lodging, daycare, and spa services.
STEP ONE: CREATE AN ACCOUNT
When you click the Create An Account button below you will be taken to a new window to start the process shown in the quick video below. The onboarding is a simple two-step process that should only take about 5-10 minutes. When selecting a username, use your email.
PetExec is a large platform used in the pet industry and the username and passwords are system-wide, therefore you can get an error message if it's used by someone else. Also, as the owner you can only put in your dog's vaccine dates one time, then Beth Ramsey, owner, will have to make changes for all future updates as the administrator.
Note: Although we require a credit card on file, you will not be charged for anything at the time of account setup. This will be used for your convenience when it's time for check-out.
Having any technical issues setting up the account? No problem, send us an email at beth@serenitydogretreat.com.
The image below is an example of the account page- click on the link above "Create an account"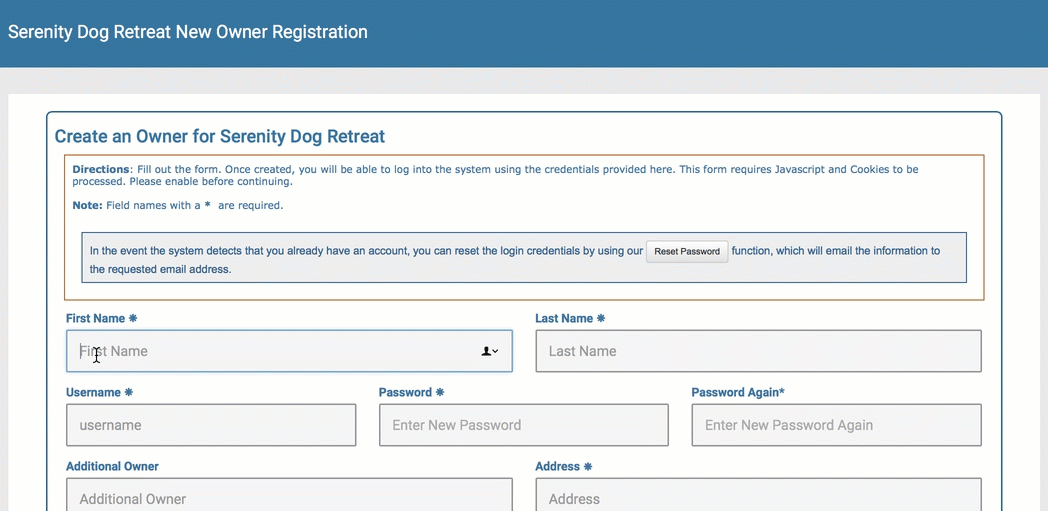 The next screen you will be taken to will have two forms you will need to sign. The Contract Agreement and the Boarding Agreement. You will be able to do this right in the account.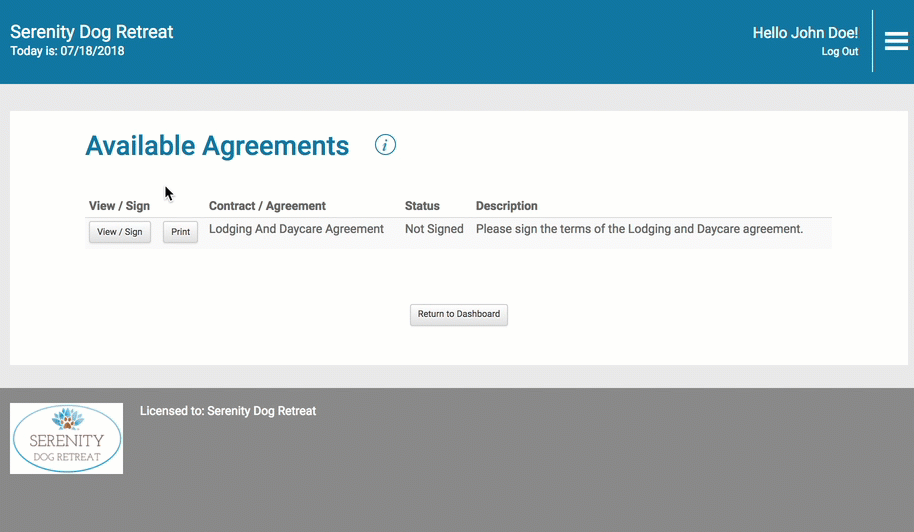 STEP THREE: ADD YOUR PET TO THE SYSTEM
the state of being calm, peaceful and untroubled