FUN DAYS & PEACEFUL NIGHTS

FUN DAYS & PEACEFUL NIGHTS

EXPERIENCE THE DIFFERENCE OF PROVIDING
A RELAXING GETAWAY FOR YOUR BEST FRIEND
We do not offer different levels of accommodations or add-on services for activities and individual attention at Serenity Dog Retreat. Every dog in our home will receive first-class care.
Your pet will be a part of our family while they are with us, and will absolutely love the time they spend here.
Serenity Inn is an attached extension of Beth's historic estate. The Inn features twelve walk-in luxury suites, 7' rooms with tempered glass doors, and open ceilings that let in the overhead chandelier lighting.
When our guests are not outside enjoying the fresh air and warm sunshine, they will relax in our beautiful home's sunroom, kitchen, or lounge area. The climate-controlled Inn with a state-of-the-art air purifying system and soothing music is used for sleeping and feeding. Each suite is lavishly furnished with a cozy bed, plush bedding, a soft rug, and a flat-screen TV to unwind from an active day with a movie (featuring gorgeous four-legged stars) and a treat.
Each overnight guest will also get to enjoy fun-filled days, individual attention, hugs, and kisses, and a peanut butter KONG at no extra cost. We also offer chews to ensure your pet is happy and occupied in their suite.
We treat your pet as if they are our own. Each day we will check for cleanliness, overall health, and their emotional well-being. The owner is a certified Pet CPR First Responder and in the rare instance we find something of concern, our client will be notified immediately. We also partner with a local veterinary clinic 4 miles from Serenity Dog Retreat, Crossroads Animal Hospital.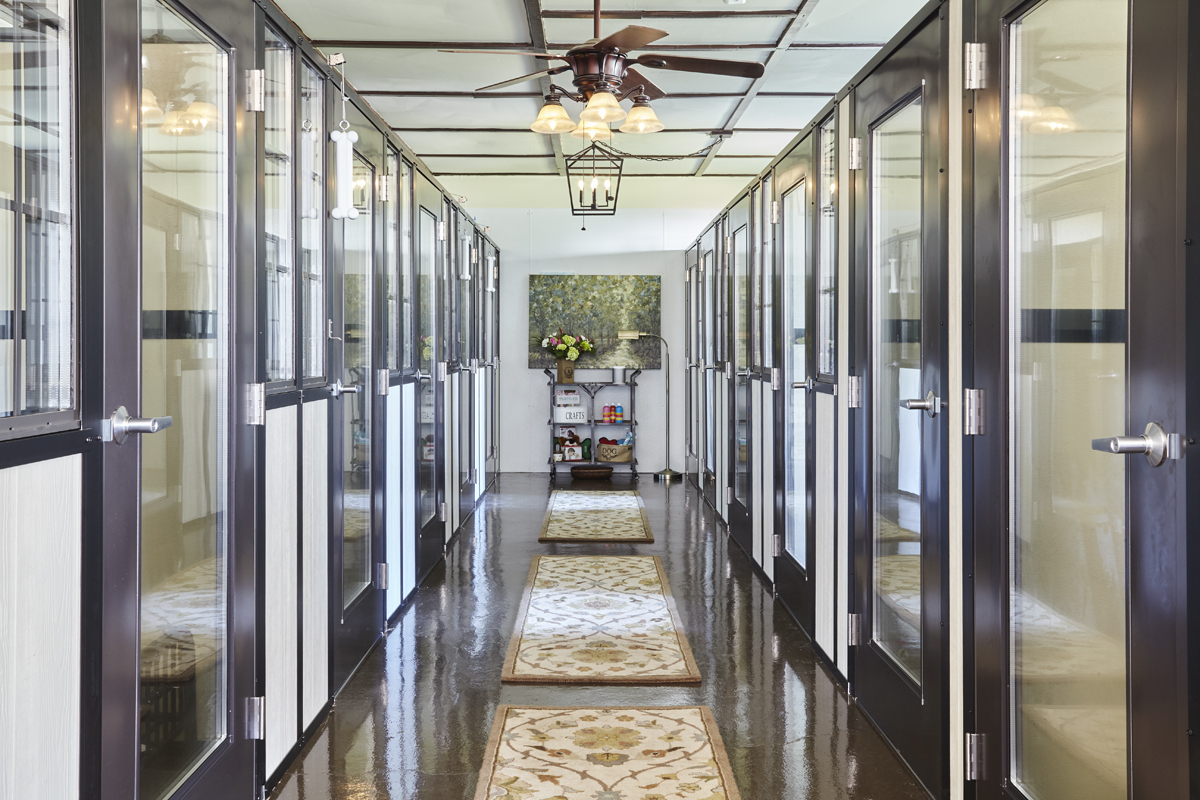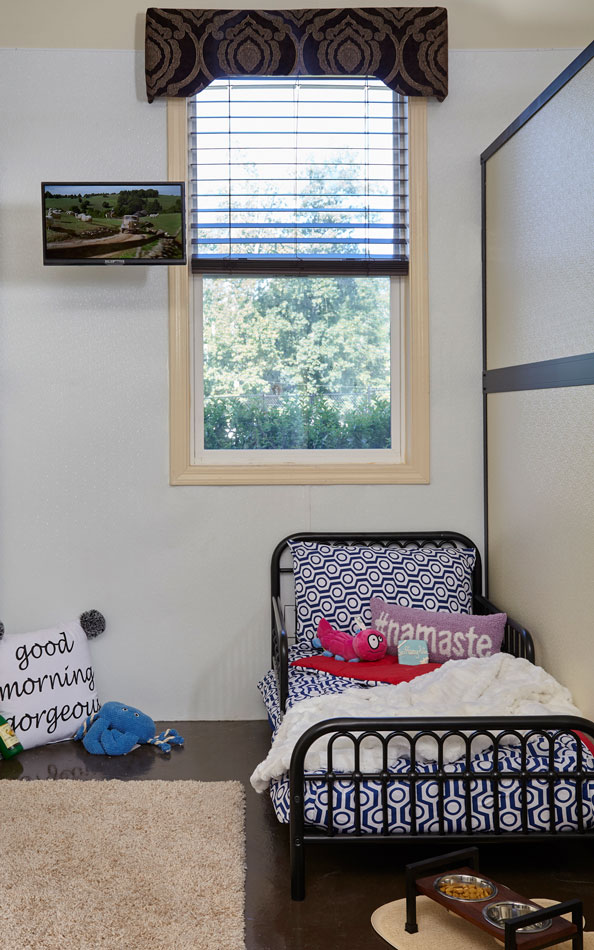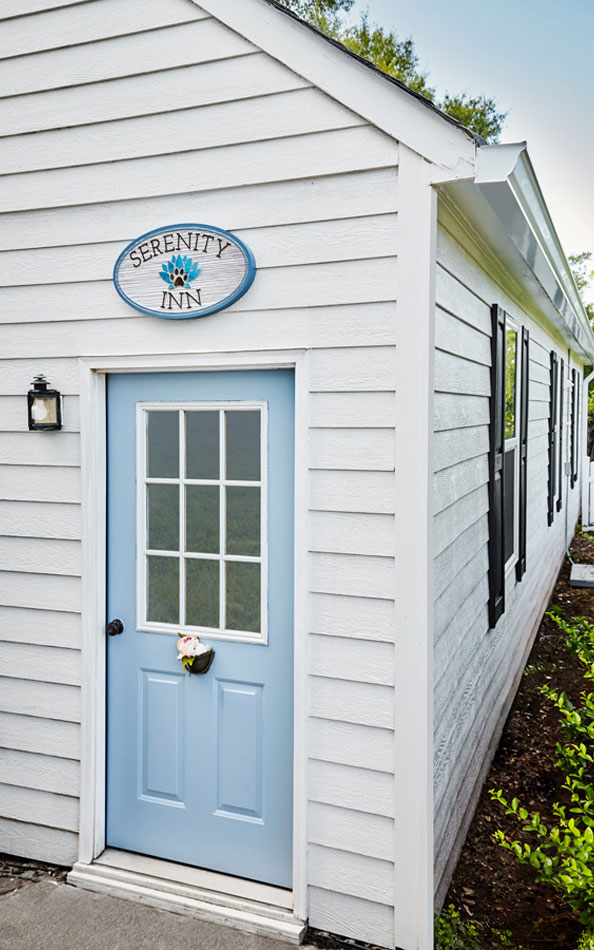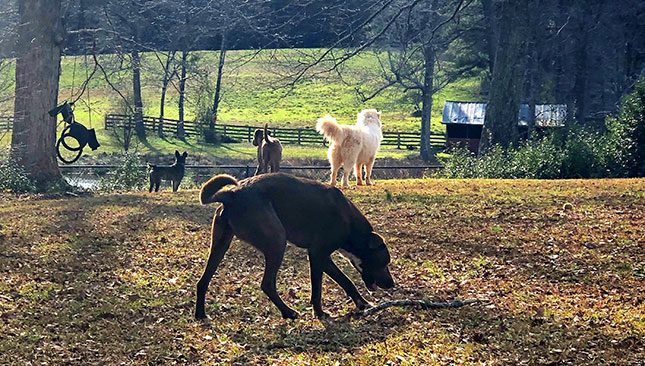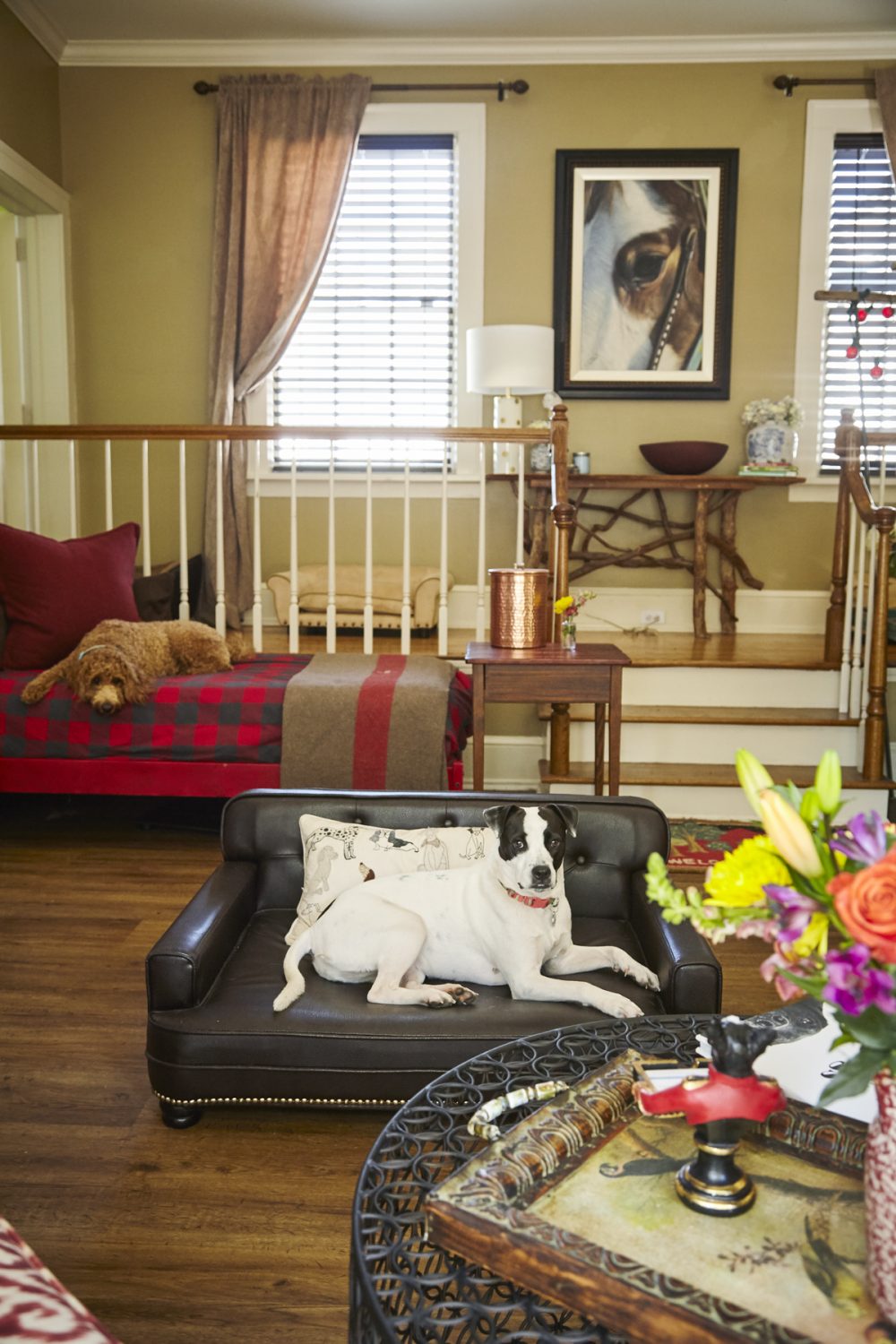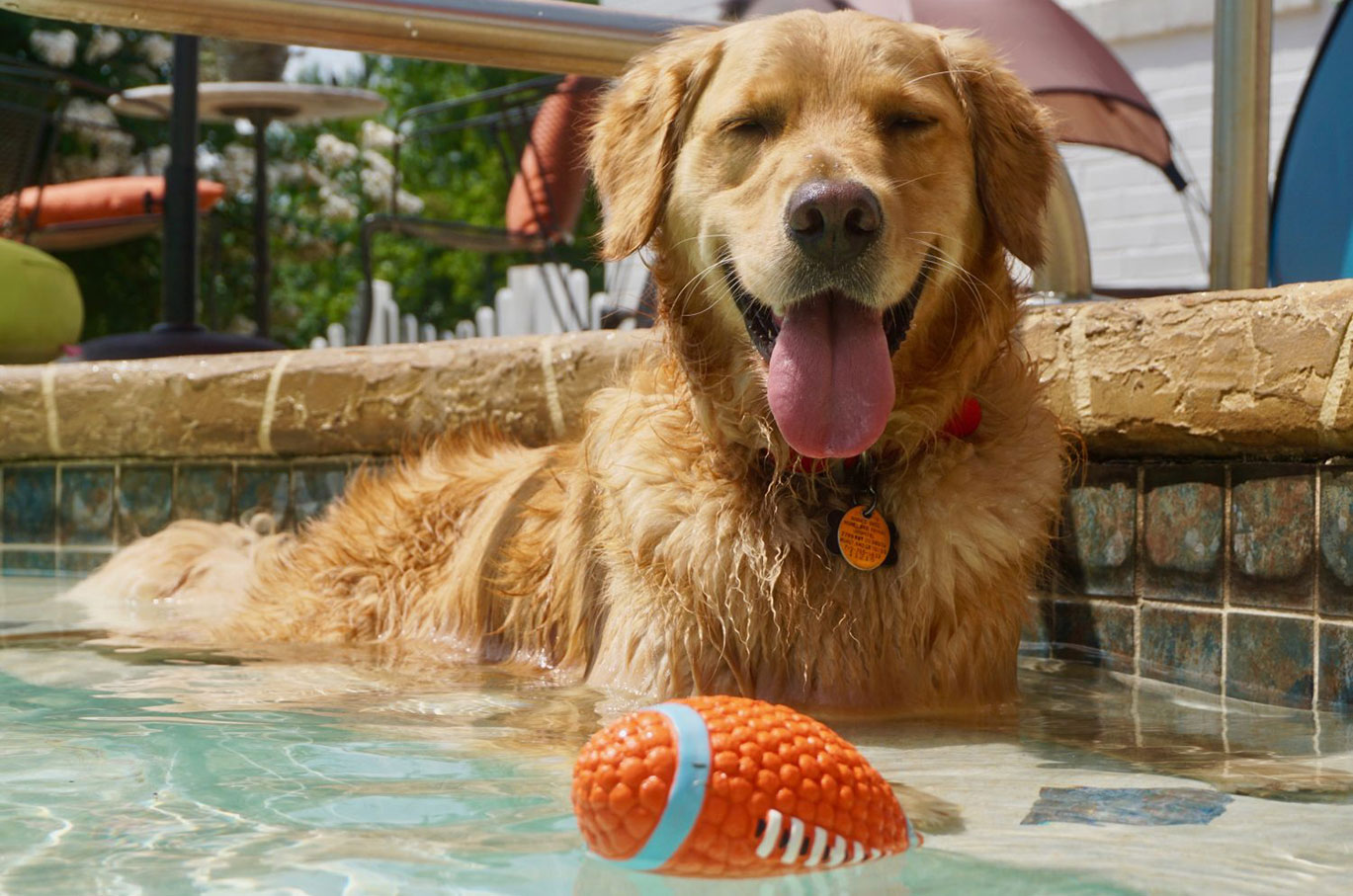 Dogs are only in their suite for eating and sleeping, with no add-on costs for individual attention, special feedings, or medicine.
Due to our full roster, we are only accepting new clients over 2 years of age.
Benefits of Serenity Lodging
Low volume of dogs for individualized attention, quiet environment, and a like-home stay. Only 12 luxury rooms are available, each with a rug, toddler bed, and flatscreen TV. All dogs must pass the required four-hour (minimum) evaluation prior to a stay to ensure the right fit due to the open environment.
Full access to outdoor areas at all business times. 

Owner, Beth lives on the gated property

and has a monitored security system.

LOTS of love.

Your dog will receive one-on-one attention from our owner and loving attendants.

Daily photo & video updates

Bedtime routines that resemble home:

frozen peanut butter Kong, a movie, and a late-night potty outing.

Comforts of home: you will want to bring toys, beds, and blankets. For the purpose of the suite to smell like home. This means so much to every dog, please ensure you bring items that smell like home. These small things really help with the transition.
Food from home is encouraged to maintain diet and digestion stability, please bring your dog's regular food in an airtight container.
Special diets and medication administration will be carefully accommodated at no extra cost.

Climate controlled suites

Soothing music, aromatherapy, and soft lighting

State-of-the-art air quality system

Green cleaning: no toxins or harsh chemicals. We only use all-natural cleaning products that are safe, effective, and approved for veterinary use.
We are a private, in-home boarding facility with an intimate, serene spirit.
We want your dog's stay with us to be fun and interactive, but also individualized and personal. We hand-select and accommodate a small volume of socialized dogs so that each VIP (Very Important Pooch) will receive the attention they deserve in a home environment. All dogs must be non-aggressive and not overly food or toy protective with lower energy styles and without excessive barking. The inside of our home is a shared setting so dogs must be able to settle together indoors. Please remember your pet will be spending time with other pets and the safety and health of all animals is our highest priority.

We require: DHLPP, RABIES & BORDETELLA
Veterinarian records can be uploaded through our customer portal. Vaccination must be administered by a licensed veterinarian and all vaccinations must be current 24 hours before the pet arrives. All pets must be in good health and free of contagious ailments. Dogs are required to have flea, tick, and heartworm protection. Owners will certify that their dog(s) are in good health and have not been ill with a communicable condition in the last 30 days. Upon admission, all dogs must be free from any condition that could potentially jeopardize other guests. Dogs that have been ill with a communicable condition in the last 30 days will require veterinarian certification of health to be admitted or readmitted.
The Serenity Dog Retreat application is an online document. Please complete the questionnaire for each dog and include your contact information. We will review and schedule the evaluation, if you don't hear from us please call or email, it means we do not have your contact information. Thank you, we look forward to meeting you!
the state of being calm, peaceful and untroubled